Has your car become your office?
The year 2020 has asked everyone to be innovative and mobile but is there a way to safely utilize your time on the road for business? We found an interesting article that meets our "safety first" approval.
Haddock & Associate's Insurance Agents understand keeping up with the pace of life but safety is always our first concern. If you have any questions on your current insurance policy, want to compare prices and change your insurance coverage, we are always available to talk. Call any of our North Idaho Insurance offices or our Eastern Washington Insurance offices for more information…..
Article: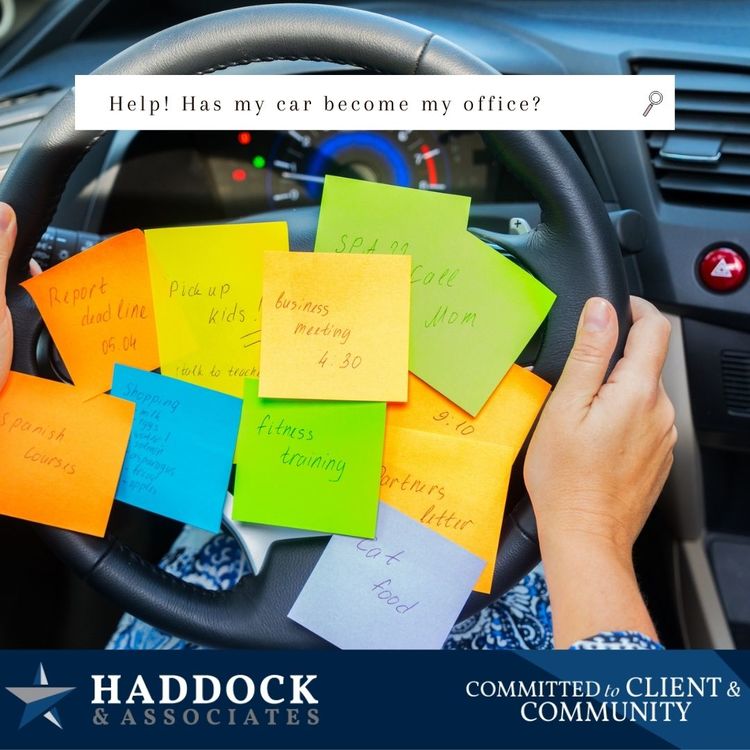 "If you're always on the go, the world is your office-which might be your car. This is the case for many, considering that the average American spends 42 hours in traffic (and an extra $1,400 extra every year because of it).
Whether it's attending a meeting while driving across state or firing off emails in a fast food parking lot, there's a lot you can get done on the road. Consider these tips to help maximize your mobile work time while driving safely.
Avoid distracted driving at all costs
First things first, don't try to work and drive at the same time. This may sound obvious, but we all know how tempting it can be to "quickly" check an email or a text.
Distracted driving was responsible for 3,477 fatal motor accidents in 2015 alone, according to the National Highway Transportation Safety Administration. An ecosystem of gadgets beckoning with lights and audio notifications can easily combine all types in one fell swoop, greatly increasing the likelihood of distraction.
The latest hands-free devices, such as these 2017 models compared by BestAdvisor, come with superior clarity, refined noise cancelling, voice-driven commands for safer driving, and some can stream surround-sound music through your car's speakers.
A hands-free device may seem to be safer, but it can be just as distracting as a typical cell phone and should only be adjusted while stationary or in an emergency. If receiving or responding to a call or text is important, pull off the road to a safe location first…..
Read full article here: https://www.careercast.com/career-news/your-car-is-your-office