The team at Haddock & Associates loves camping in the PNW. So do many of our clients. We are often asked what insurance covers theft, accidents and natural disasters while camping. We found an article below that answers many of the questions about camping and your insurance coverage. Call us today to get all of the answers you need and to make sure your customized insurance coverage protects the things that brings us all so much joy. Haddock & Associate's Insurance Agents are ready to help in our locations:
Post Falls Insurance Office
Coeur d'Alene Insurance Office
Sandpoint Insurance Office

Spokane, WA Insurance Office

---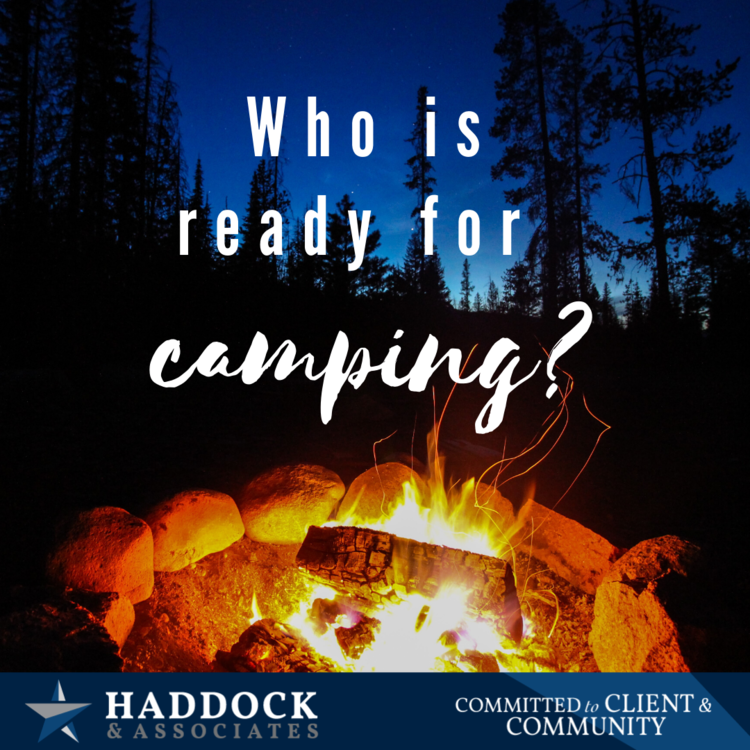 "Does "summer" conjure up thoughts of campfires, s'mores, and the great outdoors? Enjoying nature under the summer stars is a favorite pastime for so many of us. But camping comes with risk, no matter what you're doing. Here's what you need to know about camping and insurance.
Camping and Your Insurance
Even if you take precautions to prevent injuries or mishaps while you're camping, things still happen. Your RV may get into a collision or your equipment gets damaged in a storm or a thief breaks into your campsite. Insurance is about preparing for the unexpected, including while you're on vacation.
Your camping equipment isn't cheap, and a loss could put you in a financial rut or make you sacrifice your camping memories altogether. You don't want to be left in the woods without protection. Insurance can help offer financial protection to keep your family and wallet safeguarded against whatever misadventures may occur while camping.
What's the deal with camping and insurance? Are you already covered under your current insurance?
Liability coverage
Liability coverage is arguably one of the most important coverages to protect you against many of life's mishaps, including those while on vacation. "Liability" refers to situations where you are responsible for another party's injuries or damages.
Different situations would fall under different types of coverage, when it comes to liability risk. If you are driving your RV or motor home when you cause the damage, like you collide with a car or you have a fender bender with your camp neighbor's RV, then the liability will usually be covered under your RV insurance.
One of the most common causes of campsite liability is incorrectly extinguishing a fire. If even one ember is still burning, you could accidentally spark a much bigger fire on the campgrounds. If you caused damage because of this fire, the liability may fall under your basic homeowner's insurance, which generally offers blanket bodily injury and property damage liability. All policies are different, however, and you'll want to check with your insurance agent to understand what exactly is covered under your existing coverage when camping.
Liability isn't something you'll want to mess around with. If you're found liable for a major incident, you could be on the hook for hundreds of thousands of dollars in damages. Purchasing umbrella insurance can help raise your limits higher than a standard homeowners or auto policy offers. Umbrella limits start at $1 million, so you're covered for almost any situation that could go awry on your campground. If you participate in camping sports where you could injure others, like hunting or fishing, check with an insurance agent on how you can best protect yourself and if there is an umbrella insurance policy available that will extend to cover those events.
RV coverage
What if your RV gets damaged, whether or not it's your fault? In rare cases, your RV may be covered under your homeowner's insurance. In most cases, though, you'll need to purchase separate RV insurance.
RV insurance typically offers:
Collision coverage: If you get into a collision with another vehicle or a stationary object, this covers cost to repair or replace your own RV.
Comprehensive coverage: This helps pay for other types of damage to your RV caused by animals, fire, theft, or natural disasters.
Personal property: This helps cover the items in your RV, which we'll discuss more below.
Equipment coverage
Your equipment and accessories add up. Camping gear, fishing equipment, golf clubs, watersports accessories, boats, and other summer toys can total to a high value. What if a thief came and took it all? What if a storm washed it away? How much would it cost to replace all of your equipment?
Your equipment may be covered in a few different ways. Many of the items covered by your homeowner's contents coverage will usually be covered even when they're off-property, though the limits on your coverage may be reduced for items away from your home. If the belongings "live" in your RV, you may want to list them under the personal property policy of your RV insurance for better coverage.
Some people prefer to keep all of their items under their homeowner's policy to keep the claims process easy, but some people prefer to separate the items based on where the belongings spend most of the time. For example, if you have a TV that's built into your RV, it would most likely be damaged from an RV incident, so you'd already be making a claim with your RV insurance.
Sometimes your homeowners and RV insurance work together as well. Let's say your laptop is listed on your homeowners' personal property policy, while your camping equipment is under your RV insurance. If a thief came through and stole everything out of your RV, your homeowners' policy would pay out for your laptop and your RV coverage would pay for the camp gear. This means you may need to make separate claims to different companies or under different policies.
It's important to note that whether you're listing your possessions on your homeowners or RV personal property, each item needs to be accounted for individually. You want to make sure all of your valuables are itemized on your content's coverage with their associated value to ensure they're fully protected.
Tip: Try to avoid bringing valuables with you camping. The less you bring with you, the less likely you'll have a risk of loss. Plus, unplugging and getting down to the bare necessities is half the fun of camping!
Bottom Line
When it comes to camping, different scenarios fall under different insurance policies. Talk to your homeowner's agent to make sure your contents and liability extend off-site. Buy RV insurance to cover incidents that occur while you're in your camp home. And consider purchasing umbrella insurance to extend your liability and protect your wallet against unforeseen damages. "
https://www.insuramatch.com/bl...