Haddock & Associates values strong relationships with our clients. Perfection Tires in Post Falls and Coeur d'Alene have chosen to use Haddock & Associates for their commercial insurance and we could not be more proud to serve them. Haddock & Associates is North Idaho's choice for insurance coverage on homes, cars, recreational vehicles, and businesses. Give us a call so we can make sure you are protected.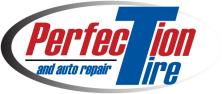 A little about Perfection Tires.
In 1962, Perfection Tire opened the doors of their first store located at 604 E. 2nd Avenue, Spokane, Washington under the name of Perfection Retreading. As technologies changed so did the tire business. Soon retreads were not the product of choice. The radial tire took over the industry, and Perfection Retreading was there to meet the demands of its customers. With the changes in technology Perfection Retreading changed its name to Perfection Tire in order to reflect the current market. In the late 70's the decision was made to become a full service automotive store. In 1985 the company's name was changed to Perfection Tire and Auto Repair.
Today, Perfection Tire has 18 locations in Eastern Washington and Northern Idaho. We offer great tires from Cooper, Nokian, Starfire, Westlake, Milestar, and ProMeter. We are still driven to give our customers the type of Hometown Attention they deserve. Each store is operated by individuals who know what it takes to make sure that your car is serviced to the highest possible standard.