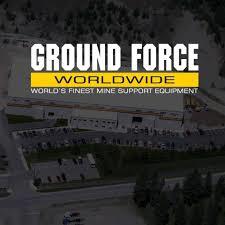 Haddock & Associates Client Highlight! It's time to brag for our client Ground Force Worldwide. Although this company services clientele worldwide, they have chosen to manufacture incredible machines in Post Falls. And although they have worldwide relationships, they choose to trust Haddock & Associates for their Commercial Insurance Coverage. We could not be more proud to work with Ron Nilson and his talented team. Thank you GFW for choosing Haddock & Associates. If you are not familiar with Ground Force and the impact they have on our community, allow us to proudly introduce you.....
Ground Force Worldwide designs, engineers and manufactures the World's Finest Mine Support Equipment. They offer a diverse product line for surface & underground mining and have trucks working in over 60+ countries worldwide. Ground Force Worldwide has been providing customers and dealers with custom solutions for over 30 years. The history of innovation and strong customer relationships around the world have proven them to be a World Leader in their industry. Manufactured Products Include: Fuel & Lube Delivery Trucks and Skids Water Delivery Trucks Production & Maintenance Trucks and Systems Support & Specialty Trucks, Trailers and Bodies
They also offer world-class Parts, Maintenance and Product Support.
To learn more about Ground Force Worldwide go to www.gfworldwide.com