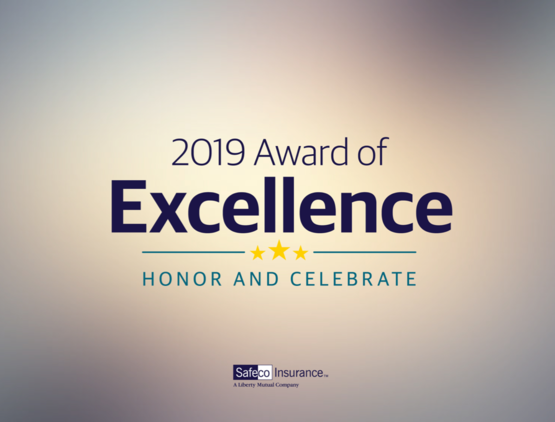 We are proud to announce that the team at Haddock & Associates has earned the 2019 Safeco Insurance Award of Excellence. This award is for outstanding underwriting performance and partnership with Safeco Insurance.

FOR IMMEDIATE RELEASE


Contact:
Haddock & Associates
John Naccarato
Principal/Owner
johnn [at] isu-haddock [dot] com
John Naccarato and the entire team at Haddock & Associates earns Safeco Insurance® Award of Excellence for superior underwriting skill
Coeur d'Alene, Idaho July, 2019 — Safeco Insurance has selected Haddock & Associates for an Award of Excellence. Fewer than 5% of insurance agents across the country who sell Safeco Insurance personal lines policies receive this prestigious honor.
To receive a Safeco Award of Excellence, an insurance agent and their team must have a strong relationship with Safeco and superior underwriting skills.
"Outstanding underwriting and strong partnerships benefit Haddock & Associate's customers," said John Naccarato. "Because Safeco Insurance supports independent insurance agents as trusted advisors, we are honored to have been selected for the Award of Excellence."
The Haddock name has served the insurance needs of North Idaho for over 50 years. In 1952 Garth Haddock opened the doors of his first independent agency, Shoshone Insurance in Kellogg, Idaho. With years of commitment to customer service, an office in Coeur d'Alene followed. 1991, Haddock & Associates was formally started with Garth's son Randy Haddock. Today, Haddock & Associates is run by Co- Presidents John Naccarato and Randy Oaks. Their mission is: to be committed to Clients and Community through offices in Coeur d'Alene, Post Falls, Sandpoint, Boise and Spokane.
About Safeco Insurance
In business since 1923, Safeco Insurance sells personal automobile, homeowners and specialty products through a network of more than 10,000 independent insurance agencies throughout the United States. In a survey conducted in 2019 by Channel Harvest, independent agents named Safeco as the carrier that does more than others to support the overall growth of agencies and be a champion of the independent agent. Safeco is a Liberty Mutual Insurance company, based in Boston, Mass.